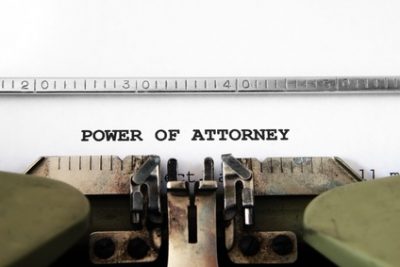 In Michigan, Powers of Attorney are essentially legal documents that you create in order to protect yourself and – in most cases – most importantly – your loved ones.  This protection is in the form of saving all involved time, money and stress.  And it is realized through maintaining control of your finances, health, and quality of life.  Since both of these documents involve managing your medical and financial affairs, they are integral parts of a complete estate plan.
Your Medical Affairs – Patient Advocate Designation – Durable Power of Attorney for Health Care
Don't fall into the common belief that a "Living will" assures that your desires regarding your medical treatments will be carried out. Living wills are not legally enforceable in Michigan.   Therefore, it's important that you set up a Patient Durable Power of Attorney for Health Care.  Commonly referred to as a Patient Advocate Designation (PAD), this is the document that will allow you to appoint the person of your choosing who will be able to make your medical (and mental health) decisions for you.
But, before any of these decisions can be enacted, a HIPPA Authorization must be executed in advance of you actually needing medical care.
The PAD allows you to manage the type of medical treatment you prefer; this is especially noteworthy when it comes to decisions involving your end-of-life care and donating organs.   This realm of decisions includes DNR ("do not resuscitate") that either you or your advocate can authorize. While this document is personalized in accordance with your preferences and requests, it must be written in a very specific manner.  Even if you currently have a PAD, it's important for you to have your estate planning attorney review it to make sure it is still current and viable.
Your Financial Affairs
Don't fall into the belief that you need a huge estate – with great wealth – in order to have a Durable Financial Power of Attorney.  Nor should you think that just because you have some sort of Power of Attorney established – that didn't cost much – that you have protected yourself, your assets, and your loved ones.
For instance, it's important that your Power of Attorney is set up by an experienced estate planning attorney who is current with the changes to Michigan's Durable Power of Attorney law that went into effect in 2012.   If your current POA was created prior to 2012, it would be prudent to have it reviewed to see if it needs to be updated to make sure it is compliant.
While a POA is unique to some extent to each individual, one thing they all share is the requirement for it to be legally enforceable. Proper drafting assures that it will be. This includes that the wide ranges of powers and specific needs a POA can grant are specifically addressed.
By having both powers of attorney – Medical and Financial – prepared and executed properly, your wishes will be realized and your loved ones will be protected from the expense, inconvenience, and stress of Probate Court.