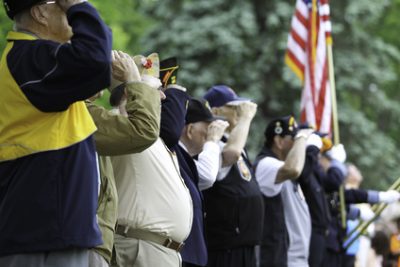 Did you know that the Department of Veterans Affairs offers an ID card for veterans? This free ID card is supposed to be an easy way to prove your status as a veteran of our armed forces, allowing you to access veterans' benefits from businesses and services providers. This ID card was first available starting in November of 2017, though it was ordered by Congress in 2015. For veterans that are not currently enrolled in the VA healthcare system, this ID was intended to provide a government issued ID card that would give them access to benefits, without having to carry a copy of their DD-214 form. This benefit from our government is long past due, but many veterans wonder if the new ID card is really worth the effort.
Getting the ID Card
In theory, getting your veteran ID card should be simple. If you have access to a computer and the internet, applying for your veteran's ID card is a simple and relatively quick process. The application for your veteran ID card can be found at the website VETS.GOV. On this site, you will create a log-in account, enter your service information and upload a photo for your ID card. Once your information is entered in to the application, you can print out a temporary paper version of your new veteran ID card. The Department of Veterans Affairs will send a permanent copy via the US mail. A couple of things to keep in mind when you are applying for your card: first – the website is relatively new, so you may experience some glitches, second – just like most services from the federal government, don't expect to get your card overnight.
Why Should You Get the ID Card?
Most veterans returned home from their service, with little to no notice or accolades. You probably don't get a lot of folks thanking you for your service, and in many cases, you may actually be shunned for your service in the military. Having served in the armed forces is a sacrifice that deserves some respect and acknowledgement, and that is where your VA ID card can help. Many, many businesses provide discounts, freebies, special benefits or even a designated parking space for veterans. The problems many of our service members face, is proving that they served. Your veteran ID card is the easy way to access these services, benefits and discounts.
What Does the ID Actually Do?
Will the VA ID card make your life better? Perhaps. If you appreciate a free meal, or a parking space just a little closer to the front door of the mall or the grocery store, then there is no reason to skip getting your veterans ID card. It may save you some time and money, and who doesn't appreciate that? This card will also help you access the other benefits that you receive from the government, and signing up at VETS.GOV gives you quick access to other services such as educational services, healthcare services and even life insurance.
Being a veteran is an honor. You've served your country and deserve to have all of the benefits you are entitled to. Even if it's just a free cup of coffee or a discount on a necessary service. Don't miss out on these benefits, apply for your veteran's ID card today.
If you need help understanding your veteran's benefits, or need assistance making a claim or appeal for benefits, contact Walus Law Group today at (586) 954-3250.